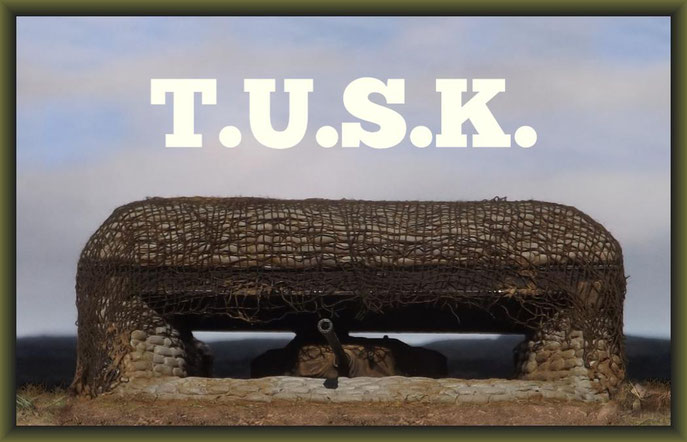 Around the midway mark of the Korean War the fighting took on a more static nature.
The frontline, as it stood, was to stay roughly the same as the final Armistice positions of July '53. Across the peninsula, heavily defended hilltops gazed down and across open valleys. These manmade killing zones became known collectively as The Battle of the Outposts. Allthough costly frontal attacks on both sides occured, this was mostly a time of patrols, ambushes and artillery bombardments.
This phase of the fighting I found quite interesting, as it had a WWI Western Front ring to it.
After reading about an abnormal size tank emplacement (Osprey - Centurion Universal Tank), I thought this was something I'd like to 'get my teeth into'. Incidentally talking of overhead cover for A.F.V.'s, take a closer look at the box photo of the Centurion Mk. III …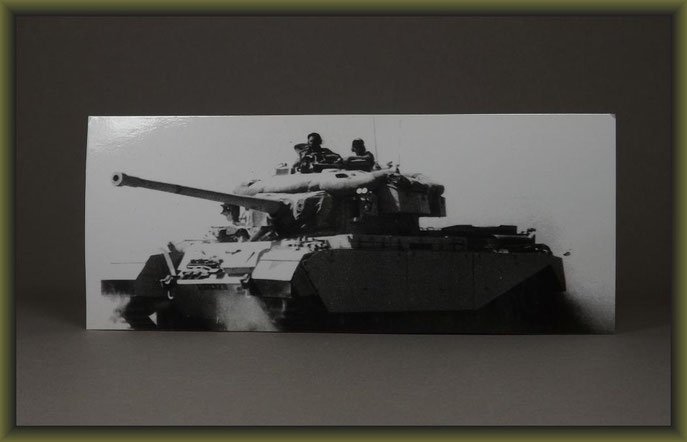 … dirty great sandbags on the turret roof!
I've altered mine slightly into a vehicle belonging to the 5th Royal Inniskilling Dragoon Guards (aka The Skins).
The position of one of these bunkers (there were only two) was on Hill 187, which I've located at around 60km North of Seoul, just South of the 38th Paralell. This position was later to become famous in the history of the Canadian Army in May '53. I've had to add a bit of artistic licence on the bunker as I could find no other photo's. So it's a bit tongue-in-cheek as it were (Though not as far-feched as Simon Dunstans's The Gray Wolf).
I did consider using Tamiya's 1/35 rendering for this job, but with a roof over it, there'd be hardly any (hard worked for) detail to see. Another reason for opting for 1/72 was as a nuance to the Centurions QF-20 pounder-gun ... most effective in breaking up 'small-scale' enemy attacks.
That's it then for The Elephant House and it's thick 'Skinned' occupant.
The title? No I haven't forgotten …
Tank Undercover South Korea
13.10.'19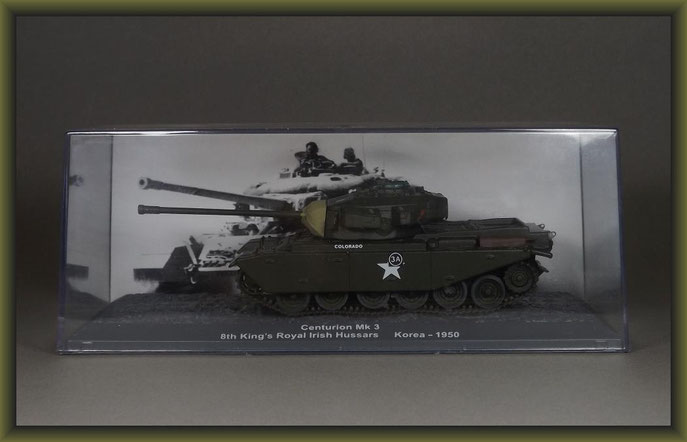 Stage 1:
Yes, you saw right - braille scale... freshly built via eBay.
Why? Well it's not so much to do with the tank but more about a fortification for it mentioned in this book:
To build this in 1:35 I'd need a small pool table as a base, and as I do not live in castle, I'd thought it better to 72-it into position.
As I had no inkling as what this fortification looked like, I began thinking about all the weird and wonderfull overhead covers and additional armour for A.F.V.'s. throught history. Wondering if this thing just MAYBE nothing more than a pre-fabricated, half-static make-shift effort.
After drawing a blank after months hunting for evidence of anything Centurion bunker-like, I decided to ask at the Missing-Lynx forum. Alas, a couple of members did not share my interest, paitience or humour in the matter even after repeating the fact that I was generally seeking a static fortification. Make of  it  what you will … tenacity pays off.
18.08.'19
Stage 2:
I'd never thought I'd see the day when a 72 job would be on the Bucket List.
Strange kit. Plastic turret, metal hull. The ACE kit is a lot better but this will have to do for the moment -  you won't be seeing much of it anyway. I've removed the decals and changed them to a R.I.D.G. Vehicle (1st British Commonwealth Div.).
Righto, that's the easy bit. Bring a sticky bun and a sense of humor for the next staging … we're off to the Zoo.
03.09.'19
Stage 3:
The tough part about this one is that I have only two pictures of the rear to go by. It would have been great if I could get some of the front … there again this alone would have been an act of sheer faith on behalf of the photografer. Here's the build-up: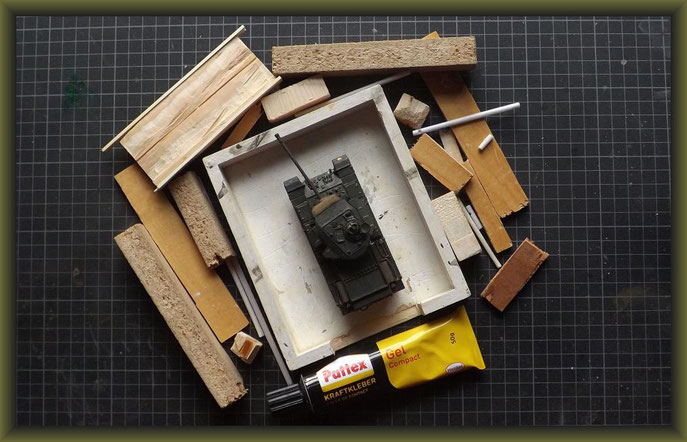 Now, my interpritation of the rest of the bunker ... It has been stated that the R.E.'s built this without enough headroom, making entry and exit difficult for the crew. Perhaps this was intended so - to drive into position 'buttoned-up' and then to open the hatches underneath the roof. The commander must have observed under the mass as in this position he'd have nothing to look at except the face of the joist, and this without overhead cover.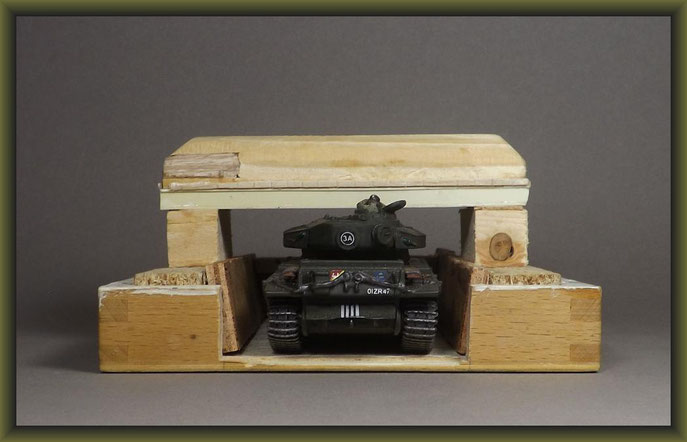 This being so, the front must have been slightly higher to enable allround vision.
I know this is turning into a 'what-if' job, but without hard evidence it's up to logic and imagination. Which are, on times, a lot more fun than working off actual measurements.
10.09.'19
Stage 4:
I was faced with a very hard decision here, buy a birthday present for my brother-in-law or invest in a cargo of Milliput …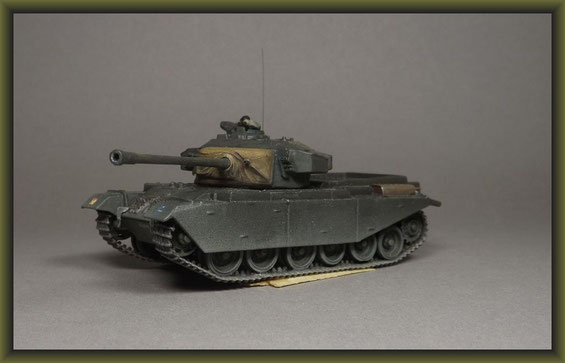 … tough luck, Bruno!
06.10.'19